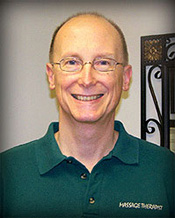 My name is Randall Gibson. I am a licensed massage therapist in Fairlawn, Ohio with over 30 years of experience and advanced training. I can use that experience to help you DO MORE, FEEL BETTER & LIVE LONGER! My Fairlawn office is just west of Akron, Ohio near Bath and Copley.
Offering Relief from:
Anxiety
Chronic pain
Depression
Fibromyalgia
Headaches & Migraines
Insomnia
Limited movement
Stress and Trauma
Sports injuries
And much more …
You may have found your way here because you want something more than the average massage therapist in Akron or Fairlawn can offer. I rarely perform conventional, relaxation massage. In my integrative practice, I specialize in craniosacral therapy for gently relieving chronic pain as well as optimizing health, vitality and performance. If you are looking for fast relief from pain or a boost for your immune system, please try this safe, natural approach. I intend for every session to provide physical, mental, and emotional benefits. If you are more interested in self-awareness or peak performance, discover how craniosacral therapy can empower you on every level.
In the past few years, I've been especially interested in the stress response and learning safe, effective methods for relieving stress and anxiety. Advanced, integrative bodywork like craniosacral therapy takes you much deeper into relaxation and healing than massage alone. It may even take you to the root cause of a problem where you can uncover the key to resolving it.
This work is easily performed through clothing so there is no need to undress.
Most sessions include a blend of light-touch, hands-on therapies. My primary focus is to provide a safe space for healing to occur. You choose the goal for each session, and I work to support your body's natural intelligence and innate healing abilities. If you are looking for an experienced, professional massage therapist in Fairlawn, schedule today for 50% off your first (one-hour) session!
---
Face Masks are recommended but not required.
Please do NOT come to the office if you are ill.  Thank You!
---
Please subscribe to our newsletter below. ↓